HUNT STUDIOS PROVIDES A RANGE OF SERVICES FROM MATERIAL PROCUREMENT AND DESIGN DEVELOPMENT TO HISTORICAL RESTORATION, HAND CARVED STONE AND CASTING IN BRONZE, PLASTER AND OTHER MATERIALS.
---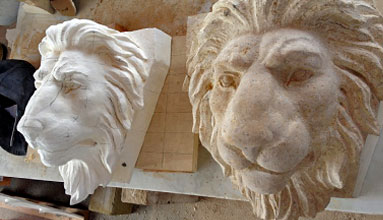 RESTORATION & CONSERVATION


Enduring themes demand enduring forms. Bring us your restoration project for an expert assessment of the scope of work and most viable course of action. We are highly experienced in the conservation and/or reproduction of architectural sculpture, details, and finishes.


INSTALLATION & FINISHES


The final stages of any project carry no less gravity when it comes to installation. As skilled masons with a long history of direct experience to draw from we will review the logistics of the installation with you, perform the work directly, or collaborate with your team for the final and safe conclusion to your project.


MATERIAL SOURCING, SELECTION, & PROCUREMENT


As artisans working in a wide array of mediums we are expert in choosing the finest and most cost-effective materials from all over the world. Consult with us on the selection of material for your next project.


ARCHITECTURAL MAQUETTE & MODEL PRODUCTION


Some projects require modern tools and methods of production while others demand traditional means of creation. We can offer you both. Whether your project must be modeled in 3D and milled, acquired by laser scanning, or built and sculpted by hand, our team has organized and executed works by every means necessary.


ARCHITECTURAL STONE CARVING


Trained among the great cathedrals of the old world, our carvers possess nique abilities and traditional methods while remaining abreast of industry developments and advances. To the present day, Stone Carving still requires a sound knowledge of ancient methods and sheer talent with a chisel. We encourage you to browse our gallery of images as testament to our caliber of work.


CAST ORNAMENT & SCULPTURE IN BRONZE, PLASTER, GFRC, GFRG


Whatever architectural facet your design calls for, we can articulate it in a number of versatile materials. Bronze finials, Decorative Plaster acanthus leaves, Glass Fiber Reinforced Concrete sinks, or cast Architectural Gypsum exterior corbels; our expertise runs the gamut.


DESIGN DEVELOPMENT, RENDERINGS, & MOCK-UPS


Our experience with creating architectural details has spanned a multitude of styles and historical periods. We take the research and development of your initial design further, bringing out all the details into their highest relief with a rich library of reference material, skilled illustrations, and artful presentation.


SHOP DRAWINGS: CAD, ILLUSTRATOR, & SOLIDWORKS


Send us your design files to work from, or let us create a set of drawings for you. Our design team works across the landscape of industry software to bring you clear and accurate technical drawings.