Luxe Interiors and Design Magazine


Interview and profile of Hunt Studio's contemorary tile and furniture designs.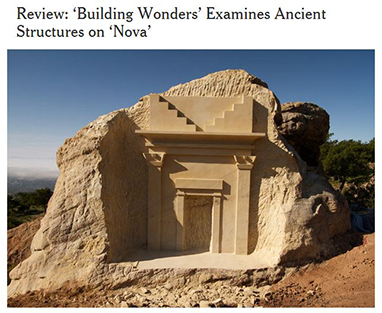 New York Times, Television Section: Nova


Hunt Studios was commissioned by Providence Pictures for a NOVA documentary to carve this full scale replica of a Nabataen tomb from the ancient city of Petra. The opportunity to carve a large monolithic piece like this was a dream come true for us.


California Homes feature: the Notebook


Feature in the Notebook section of Calfornia Homes magazine.


Real Life Magazine: Product Review


Caribbean luxury and lifestyle magazine RealLife has featured our tiles in their popular property and design publication. "Whether capturing a single defining tile or fulfilling Elysian visions of grandeur by mounting a continuous floor to ceiling relief, these hand-carved wall coverings manage both to tap tradition and bridge the avant-garde. The work of a Modern Master, they are sure to endure.


New York Spaces Magazine: Tile Art


Three of our contemporary tile designs were featured in a New York Spaces article focused on the virtual gallery cle ́ tile. New York Spaces covers the finest metropolitan homes, gardens, and interiors, while providing readers with resources and inspiration.


Modern Sybarite: clé and Hunt Studios


"Finally, based in Los Angeles, Hunt Studios is headed by Nathan Hunt an architectural sculptor and master carver. His "Ripple" tile in gypsum, stone or cold-cast bronze (resin with bronze) is perfect for interior/exterior walls. It's modern and frankly, too elegant for words, a true statement of this transplanted Brit's talent and refined artistry."


CA Home + Design: In the studio


"Hunt's team of master carvers and architectural sculptors comprises an international brood from far-?ung places such as Albania, Turkmenistan and Mexico. Like the countries that Hunt and his crew hail from, their projects are equally far ranging: from private commissions, such as an ornate, hand-carved Carrara marble built for a Hollywood producer, to large-scale public works, including a reproduction.


Traditional Building: Spirit of the Ocean


"Britishstoneworks, Hunt Studios and Melka Sculpture worked diligently on the front lawn of the Santa Barbara courthouse for seven months to re-create the Spirit of the Ocean. While bronze, marble or even cement would have been more durable than sandstone, due to historic preservation regulations, the new sculpture was expected to adhere as much as possible to Caldorin's original material, tools and process."


Remodelista: Hunt Studios on the Farina Project


"The Louise Nevelson–inspired marble counter (pieced together from vintage sink basins) is by Nathan Hunt of Hunt Studios in San Francisco".
Jane Antonacci: Spotlight on Hunt Studios


"Nathan can provide architectural carving services from a wide range of stone and sculptural media, using traditional and modern methods carried down through many generations. Although he is well known for his mantles, he does architectural sculpture in Gothic, Romanesque and other classical traditions, producing custom capitals, ?replaces, fountains, pilasters, panels, and anything else you might want carved speci?cally for your high-end project."


SF GATE: MISSION RESTAURANT CRAFTED BYT STONE AND STEEL ARTISTS

"We primarily do architectural sculpture in Gothic, Romanesque and other classical traditions, producing custom capitals or ?replaces for high-end homes. This was one of the ?rst contemporary projects we took on."

"Hunt is comfortable working on Atherton, Carmel and Santa Barbara mansions in part because his stepmother was an architect. He started his career as a stonemason at the Exeter cathedral when he was only 15, well before he got any real training. He eventually worked on castles and palaces and also on Princess Diana's memorial before he started to travel and settled in San Francisco."