HUNT STUDIOS PRODUCES FINE HANDCRAFTED ARCHITECTURAL SCULPTURE IN STONE, METAL, AND CAST MATERIALS. WE COMBINE FINE ART CRAFTSMANSHIP WITH MODERN BUSINESS PRACTICES TO REALIZE SCULPTURAL PROJECTS FROM THE MINIATURE TO THE MASSIVE.
---
Hunt Studios produces fine, custom handcrafted architectural sculptures in stone, metals and cast materials throughout the United States. (Worldwide delivery is available.)
We have built up a reputation through unique, high quality carving commissions for over twenty years. Using individual creative design and craftsmanship you can trust us to produce your sculptures, columns, capitals, arches, fireplaces, restoration, conservation and other work on time and within budget.
Our experience of ornamental carving in the classical tradition, borrowing from the architectural styles of antiquity means that together we will create an artistic legacy lasting hundreds of years. We are equally at home creating contemporary sculpture to complement your residence, business or public building.
The expert Hunt Studios team is led by Nathan Hunt, a European artisan and master carver who appreciates the need for client satisfaction. We have workshops in San Francisco, Los Angeles, and Joshua Tree, California and can offer on-site stone carving almost anywhere worldwide.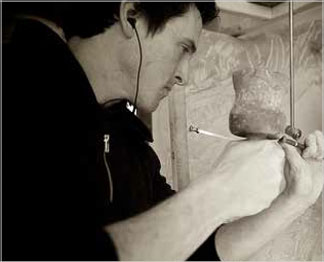 NATHAN HUNT
Nathan Hunt, the proprietor of Hunt Studios, is a European artisan, master carver and accomplished architectural sculptor with over 18 years of experience specializing in hand carved stone and ornamental modeling. Hunt found the art of stone carving at the young age of 15 when he first apprenticed in the traditional craft in various churches, public buildings and stately homes throughout England. During his apprenticeship, he learned restoration and conservation skills he then applied to projects, which include: the Princess Diana Memorial, Westminster Abbey, Exeter Cathedral, Crosby Hall, the Royal Opera House, Drumlanrig Castle, and Yorkminster Cathedral. His passion for sculpture, as well as his firsthand experience of the world's art and architecture while traveling throughout Europe, Africa and North America, serve as inspiration for his business. It is this combination of craftsmanship rooted in European tradition and knowledge of formal architectural and art world history that gives him the ability to design ornament in period styles that look authentic. Since establishing Hunt Studios, Nathan Hunt has carved out a specialized niche for his business, working for some of the most successful American entrepreneurs on high-end residential projects.